Your frame board, now viewable from her couch.
My Frame Gallery makes it easy to create a virtual frame board customized for your practice.
Sign up for a demo of My Frame Gallery
—HEA members receive 2 free months of service when they start a new subscription. See below for details—
To schedule a demo, use the calendar below to find a time that works for your practice.
.................................
Ready to order?
Practices of 1-2 locations that are new to Frames Data can order online here.
Already subscribe to Frames Data? Current subscribers can save money when they add My Frame Gallery to their existing account. Call 1-800-821-6069 ext 3 to order.
All multiple location practices of more than 3 locations: Call 1-800-821-6069 ext 4 or email licensing@framesdata.com
What can I expect from this Demo session?
A virtual frame gallery from Frames Data will help you provide a safer, more enjoyable, and more efficient experience that your patients will love.
Plus, it's so easy to set-up, you could have your custom Gallery in under an hour!


In your demo, we'll cover: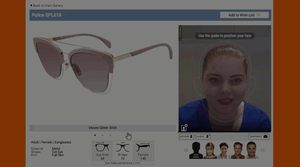 How My Frame Gallery can help your practice grow


The easy set-up process


Ways to keep your gallery updated with minimal fuss


How to use the Wish List to engage your patients



Virtual Try-On

If you're curious about how a virtual frame Gallery can help your optical retail, this is for you!

Select a time that works for you! We'll send you details for an online meeting once you've submitted your request.
Questions? Call 1-800-821-6069 ext 3.
*We can give the demo in 15 minutes, but we'll be happy to have a lengthier call and answer all your questions!
About the HEA program
HEA Members will receive 2 months of My Frame Gallery service at no charge when you commit to a full year of subscription. Annual subscriptions will be 14 months for the price of 12, and monthly subscriptions will not be charged for the first 2 months of service (set-up fee applies).
Be sure to mention this promotion during your demo to participate.
.........................................................
Eager to get started right away but want to see the product in action? You can watch a pre-recorded demo video.