2-Week FREE TRIAL to Frames Data Online
Look up frames, view full-color images, explore brands and collections, and more! Includes over 600 brands.
Frames Data Online is the online tool that opticians rely on for all the latest information on ophthalmic frames, now in a limited FREE 2-Week trial.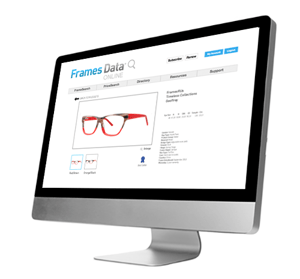 It offers you a fun, easy-to-use way to find the detailed frame information your practice needs:
detailed measurements
colorways available
materials
product imagery
manufacturer information
and more!
If you're serious about making your dispensary run like a well-oiled machine, this is the tool you need.
This limited trial offer will give you a taste of how Frames Data can help you in your dispensary. At the end of your 2 weeks, sign up for a full Frames Data subscription to turn on even more features, including PriceSearch, for wholesale pricing.

---
**Please note: this form will only work once. You cannot re-submit to restart your trial. Please login immediately to get started. Likewise, If you have previously had a subscription this form will not work.
***Frames Data is for optical retail practices and dispensing eyecare professionals. You must be an eyecare professional to qualify for this offer.***
---
Watch this video to see how Frames Data Online can up your frame game: